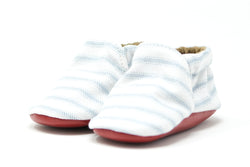 Baby Blue Nautical Stripes
Our Baby Blue Nautical Stripes is a light and stylish pattern for any outfit. These airy, yet durable linens are a classic wardrobe staple for your Little bundle of joy. 
Little Grapefruit baby shoes are cozy, cute, and handmade in Canada. All of our shoes are lined with a soft suede for maximum coziness, and are designed to stay on your little ones feet! We are very proud of our Canadian roots so we only source materials, leathers and textiles from partners across Canada.